Laundry detergent pods have significantly altered how we do laundry. These handy little packets have just the right amount of detergent for one load, so there is no need to measure, and there is less waste.
But have you ever thought about the materials used to make these pods and how they function in the presence of water?
The fascinating world of laundry detergent pods and the ground-breaking PVA film that dissolves in cold water will both be covered in this article. This ground-breaking water-soluble packaging, developed by Polyva in Guangdong, China, is revolutionizing the way we think about laundry.
The Rise of Water-Soluble Packaging
Large, wasteful plastic containers, which can be both inconvenient and unnecessary, are frequently used to package traditional detergents. But there has been a significant shift in the laundry sector in the direction of a user- and eco-friendly approach.
Leading the way in this transition toward water-soluble packaging is Polyva's PVA film, which is soluble in cold water.
Understanding Water-Soluble PVA Film.
The invention of water-soluble PVA film has completely transformed the packaging industry. It is created using a casting process, which endows the substance with an exceptional softness. A distinguishing feature of it is its water solubility.
This means that when the film comes into contact with water, it completely dissolves and leaves no trace behind. This innovation makes it easier than ever to clean your clothes while being considerate of the environment and is perfect for laundry detergent pods.
Because of their convenience, efficiency, and reduced detergent waste, laundry detergent pods have become increasingly popular all over the world. These pods are a complete package because they contain the detergent, the stain remover, and even the brightener.
Their distinctive water-soluble packaging, which is frequently made with PVA film that is soluble in cold water, is what sets them apart, though.
Applications of Cold-Water Soluble PVA Film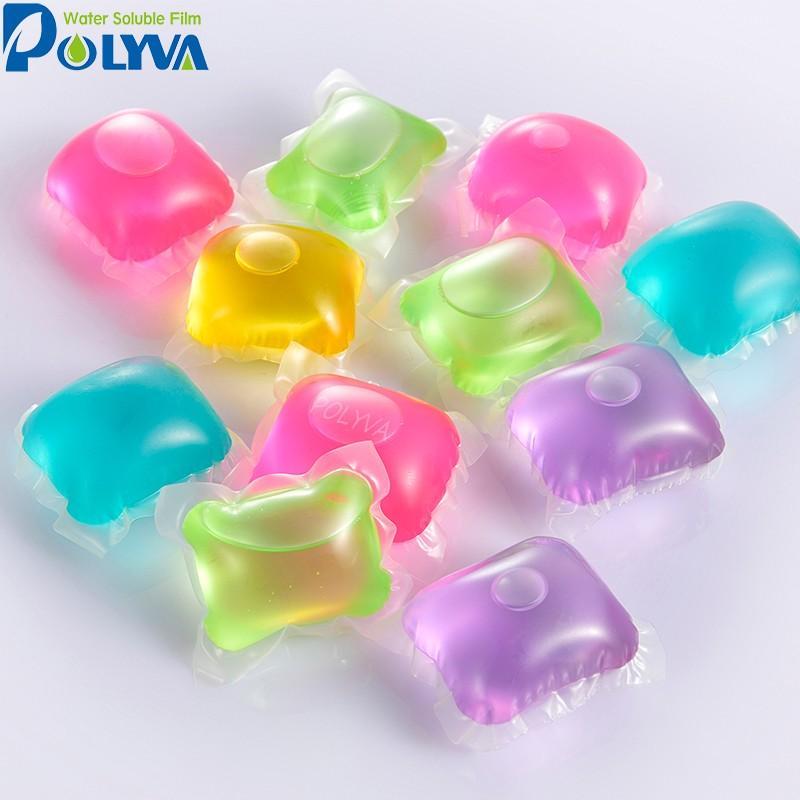 PVA film that dissolves in cold water is employed for purposes other than laundry detergent packets. Its adaptability is demonstrated in a variety of fields:
1. Nonionic Surfactant Products in Unit-Dose Packaging - This film is especially well suited for the packaging of nonionic surfactant products in unit-dose form. It makes simple dispensing and precise measurements possible.
2. packaging with low water solubility - This film provides a dependable and efficient packaging solution for products, like specific chemicals or detergents, that need low water solubility and high extensibility.
3. Regular cleaners, emulsion pesticides, and water-soluble fertilizers can all be packaged with the help of this film because of its ability to dissolve in cold water while remaining weather-resistant.
Technical Details for Cold-Water Soluble PVA Film.
Place of Origin: Guangdong, China (Foshan).

Property: Water soluble.

Application: Packaging for laundry detergent pods.

Stretch film.- Vinyl as a material.

Regular Thickness: 35-90um.

Width: 100mm–1800mm.

Length: 100M–1500M.
Water Solubility: The Environmental Advantage.
Polyva's Laundry Detergent Pods Cold Water Soluble PVA Film's outstanding water solubility is one of its standout features. This feature has a great chance of reducing harmful environmental effects. In a world where sustainability is a top priority, this PVA film is a game-changer.
The movie completely disappears and is completely undetectable in water. This indicates that the detergent is released from the detergent pod's film casing when you place it in your washing machine. No longer is it necessary to struggle with plastic packaging or contribute to the pollution of plastic. A more eco-friendly way to make the environment cleaner is with this water-soluble film.
Adaptability in Any Climate
The PVA film from Polyva is designed to work incredibly well in high-humidity environments and isn't just for specific climates. For regions with tropical or wet climates, this is especially crucial. Because of its weather resistance and water solubility, the film is the best option for high-humidity areas and will keep your detergent pods intact until you need them.
Non-toxic and Environmentally Friendly
People are becoming more aware of the harm that plastic does to the environment, which is increasing demand for environmentally friendly alternatives. Cold Water Soluble PVA Film from Polyva contains laundry detergent pods made of non-toxic, environmentally friendly materials. This demonstrates that it degrades naturally over time without harming the environment.
Applications Galore
Outside of laundry detergent packaging, this inventive film has other applications. It is particularly suitable for nonionic surfactant products, which are used in many different industries and are packaged in unit-dose form.
Embrace a Cleaner, More Convenient Future
Laundry Detergent Pods Cold Water Soluble PVA Film from Polyva is an example of how resourceful people can be in coming up with effective and sustainable solutions. Consumers benefit from a hassle-free laundry experience without having to worry about plastic waste, and manufacturers benefit from a flexible and environmentally friendly packaging option.
Products like this PVA film are crucial in minimizing our impact on the environment as we move toward a more environmentally conscious future.
Change to Polyva's ground-breaking PVA film to join the movement toward a cleaner, greener, and more practical future for all. Bring in a new era of detergent packaging and bid plastic waste farewell. The use of emulsion pesticides, water-soluble fertilizers, and common cleansers are all examples of this. Because of its high extensibility, it's perfect for low water-soluble packaging, where flexibility is key.