Embroidery is the epitome of transferring designs on garments and material, often being preferred to heat transfer, prints, or other design options.
More consumers and companies are turning to embroidered fabrics to appeal to an upscale market that wants superior products with a personal touch.
However, computerized embroidery can be a challenge on rough fabrics, fluffy fabrics, knits, and light materials — including toweling, silks, rayonsu, velvet, wool, and microfibre, among other things — are easier to embroider thanks to cold water soluble PVA film.
How is

Cold Water Soluble PVA Film

Used in Computerized Embroidery?
Cold water-soluble PVA film is a plastic-like film used to top or back computerized embroidery on soft, uneven, rough, or raised fabrics.
Most PVA (polyvinyl alcohol) film is only soluble in temperatures above 40°C which excludes its use in several types of fabrics and processes — given that it needs to be seared away and could scorch or alter the fabric.
Cold water-soluble PVA film is specifically formulated for use in production that uses delicate fabrics and materials, and is one of the only few biodegradable synthetic resins.
5

Benefits of Using Embroidery Water-Soluble Film
Using embroidery water-soluble film, your business can unlock a lucrative segment of the market and improve profit margins. Manufacturers rarely consider the backing of their embroidery, although making this simple change can have an enormous impact on the quality of the product and the markets you can attract. These are only five benefits you'll access when switching to cold water-soluble PVA film.
1. Embroider More

Fabrics
Since most embroidered films operate on a heat-away system that requires fabric to be heated to more than 40°C, they can't be used on delicate fabrics, given that these garments cannot be exposed to high temperatures.
Cold water-soluble PVA film can help expand the materials you embroider. Furthermore, POLYVA's embroidery water-soluble film is the perfect temporary backing for all types of embroidery.
2. Easy to Incorporate in Production and Manufacturing
Incorporating embroidery water-soluble film in a production process is hassle-free.
Water-soluble embroidery film allows the garment to be embroidered in the typical manufacturing process without a need for additional equipment or steps in the process.
It can typically replace paper and non-woven fabrics.
3. Don't Affect the Quality of Embroided Area
Computerized embroidery is often associated with an embroidery feeling that is thick and stiff, giving the outcome that the item is a poor-quality product.
Water soluble PVA film doesn't have that same effect; rather, one of the most noticeable benefits is the film's zero residue, which gives the embroidery using this film a high-end feeling and will not cause discoloration on the embroidery or the fabric.
Another essential benefit of this type of PVA film is that it doesn't cause needle-merging, wiredrawing, wire breaking, offsetting direction, or nodal point.
4. Attain a Hand Embroided Feeling
Hand embroidered garments and fabrics are a sought-after consumer good given their flexible, intricate, and delicate design that's nearly impossible to accomplish with computerized embroidery because of the inflexible, melting film that leaves a shiny and waxy residue atop the fabric — a dead giveaway the embroidery isn't handcrafted.
Embroidery water-soluble film is a delicate film that dissolves when it comes into contact with water and doesn't leave a residue.
5. Easily Remove Cold Water Soluble PVA Film
There's no need to immerse the garment or fabric in water to remove the remnants of the PVA film once the embroidery is complete; instead, the PVA film will dissipate simply by applying a damp cloth — or similar — to the embroidered area and letting it rest to dissolve the PVA film.
Of course, larger designs and embroidered areas emerging in water may be necessary but can be incorporated into manufacturing.
The POLYVA Cold Water Soluble PVA Film
POLYVA cold water soluble PVA film is designed to be an indispensable part of the clothing and textile manufacturing process. The film begins to dissolve in room temperature water in 10 seconds and has entirely dissipated after one minute of exposure to water.
This enables manufacturers to use minimal water to achieve the desired and instead rely on consumers to remove the remaining residue.
POLYVA's embroidery water-soluble film is also environmentally friendly. It is biodegradable in carbon dioxide and water, enabling your textiles and garments to appeal to a growing consumer base that wants greener companies and eco-friendly products.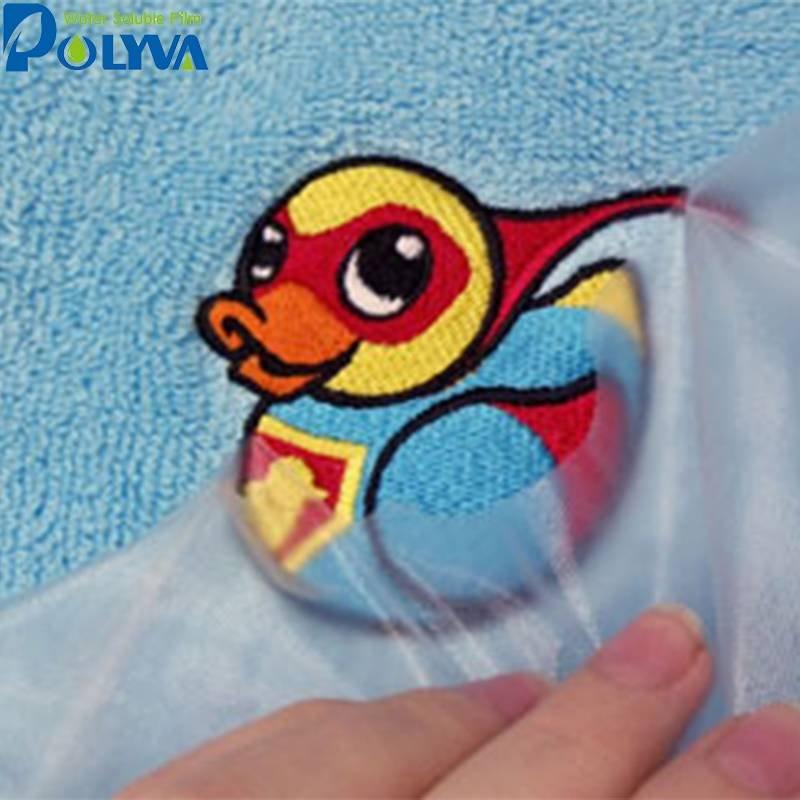 Conclusion
Using embroidery water-soluble film could elevate the type of embroidery you can incorporate into your production.
With this type of film, you can generate more profit by embroidering more delicate materials and targeting higher-end markets without the higher-end price tags.
Given how versatile POLYVA's embroidery water-soluble film is, you can replace the current embroidery backing on your production line while achieving even better results.